FOOLCAT
HTML + PDF VISUAL DAILIES CATALOGS
LATEST VERSION : DEMO / FREE UPGRADE
UNLOCK FOOLCAT FOR 65 US $
1 SEAT LICENSE PURCHASE VIA PAYPAL
foolCAT generates CLEAN camera reports WITH 3 THUMBNAILS
AND EXTENDED METADATA in HTML and PDF format.
IT WORKS WITH R3D FILES, SOME MXF AND MOST QuickTime clips
Check sample HTML and PDF catalog below
or generate one from your own footage using the demo version...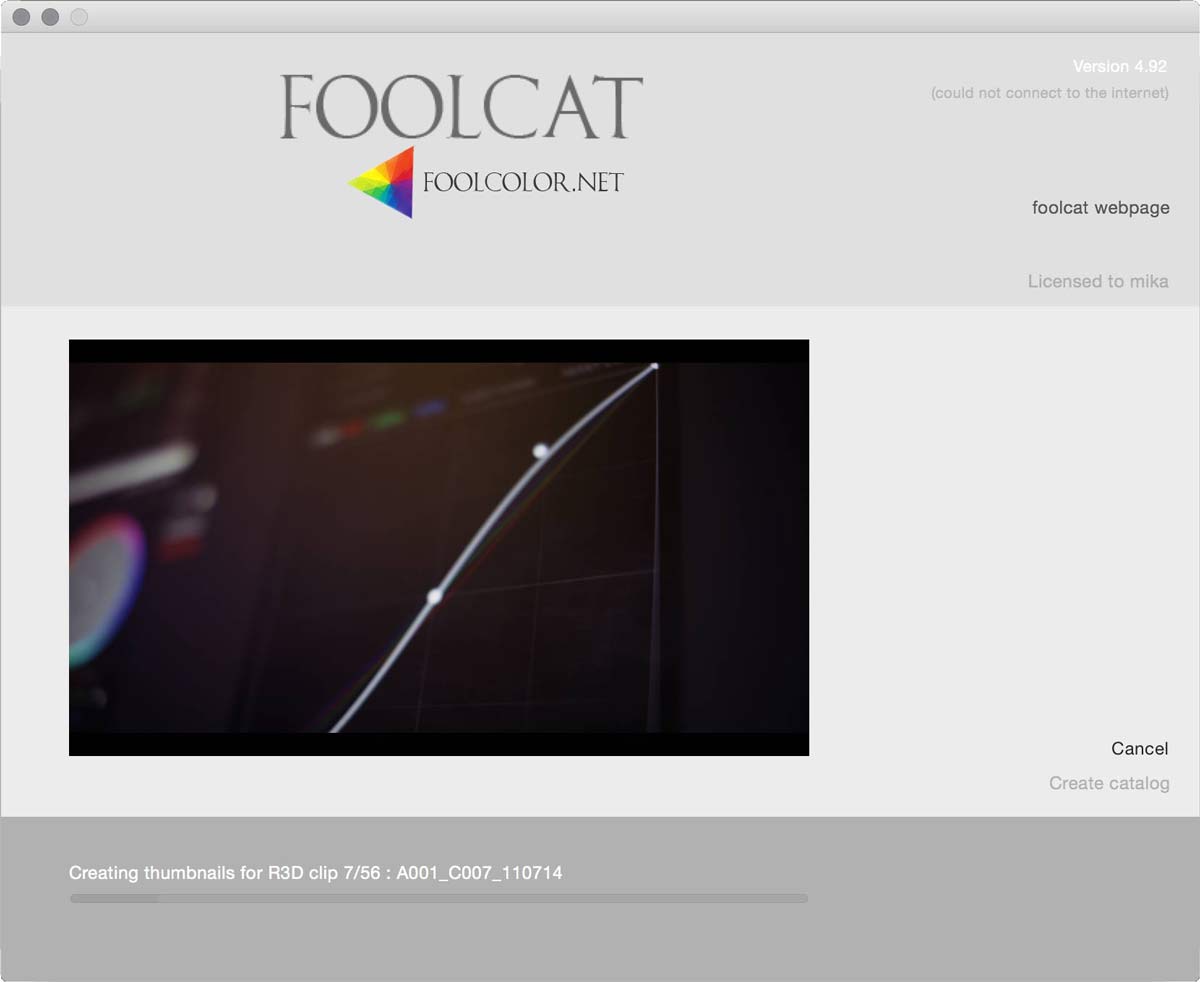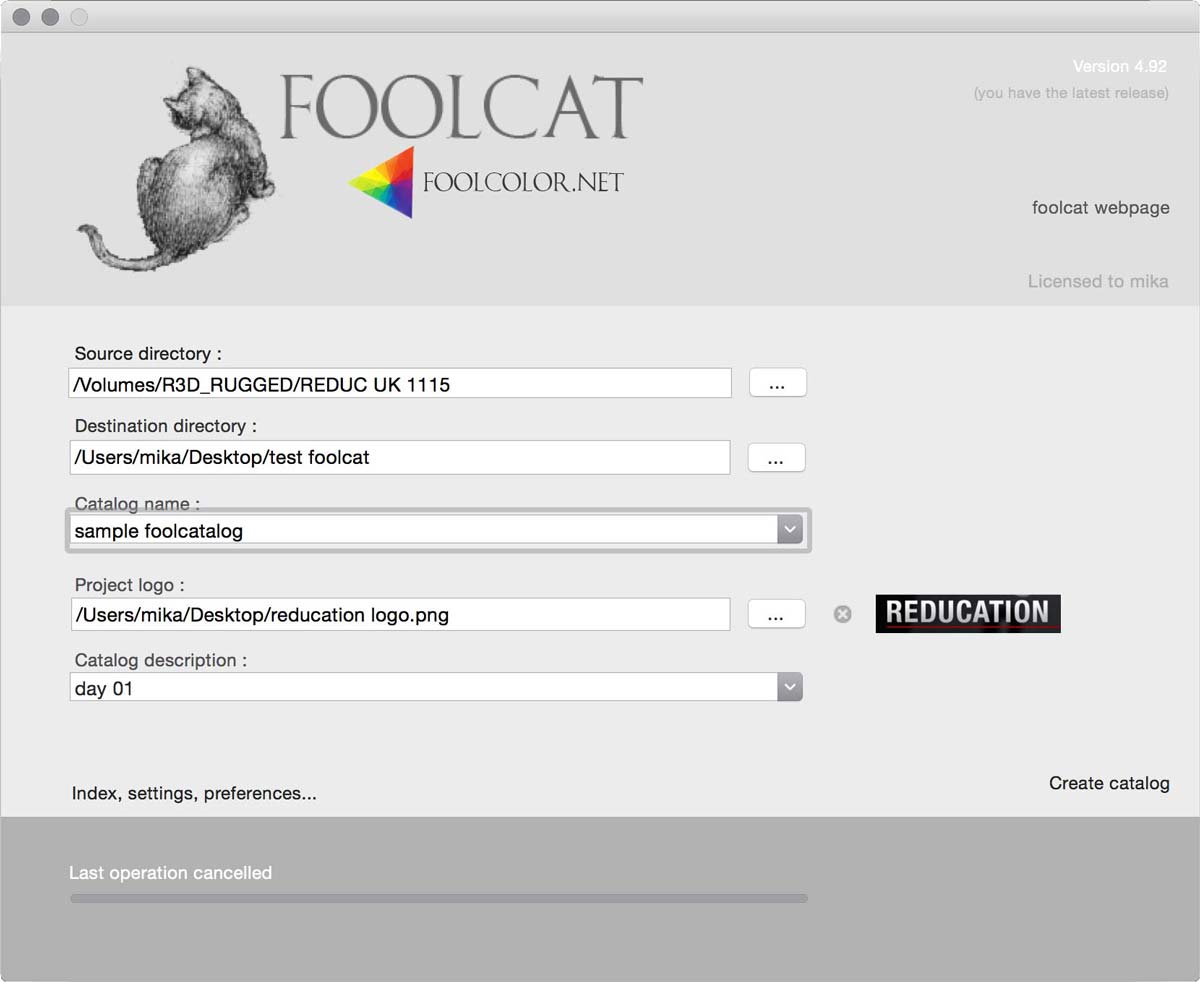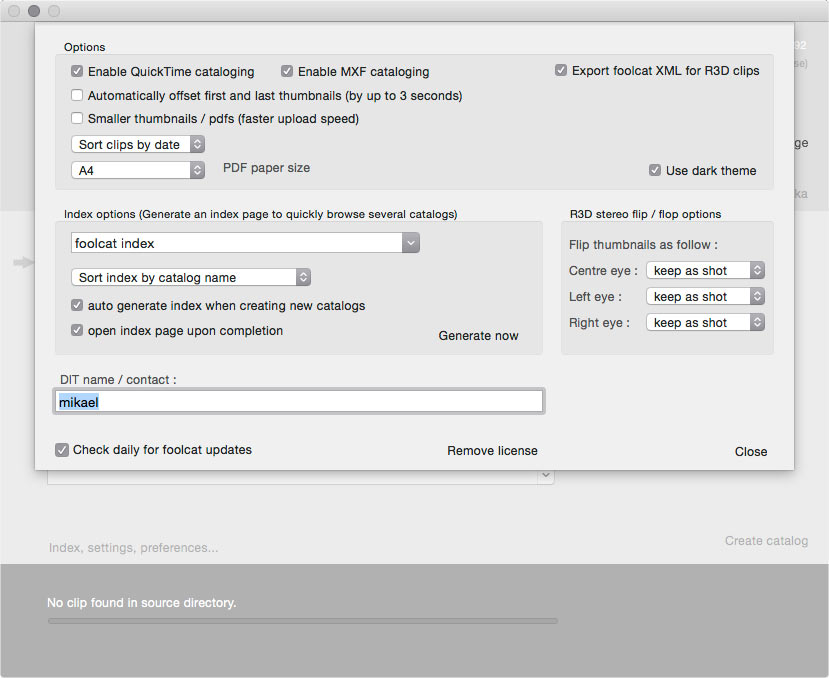 foolcat will show total clip count, duration, drop frames, disk space and for each clip 3 thumbnails with extensive metadatas.
For RED clips, this includes clip name, date shot, time shot, camera name, format, pixel size, aspect ratio, frame guide, project frame rate, sensor rate, duration (seconds and frames), absolute TC start/end, edge TC start/end, shutter speed (1/secs and degrees), REDcode, HDRx stop value, ISO, WB, audio channels, motion mount, 3D mode, camera type, sensor info, OLPF type, PIN and firmware revision, number of file segments, drop frame count, lens mount type, focal length, aperture and focal distance, genlock, TC sync, lookname, colorspace and gammaspace... it also displays gain, lift gamma gain, curves, exposure, saturation, contrast, shadow... plus all the RMD values, including synched audio, framing setting, post FX and any custom user info added in REDCINE-X.
HTML version will also let you view and compare your clip with and without the RMD sidecar look applied, and also preview HDRx X track if available.
foolcat can export an XML with most of this info available including thumbnails for further metadata ingest if needed.
The master index HTML page features allow a page to link to the various html catalogs (daily or per card) that you create.
The app is used worldwide and liked by a lot of DITs, their clients, editors, script supervisors and directors on small and high end projects.
With foolcat you have a clean visual summary of what was shot during the day.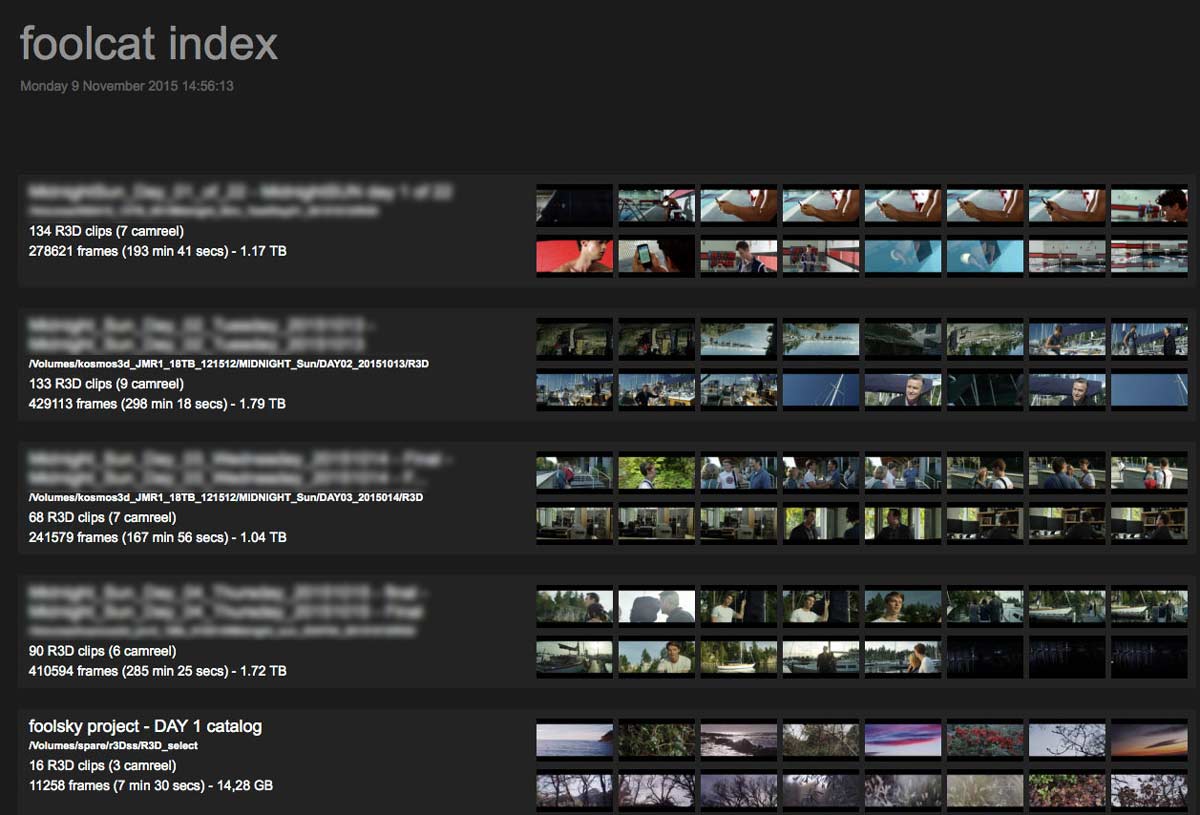 foolcat works on Mac OS X intel and requires to have latest REDCINE-X PRO installed.
It runs on OS X 10.7 and higher.
If you are using 10.6 (Snow Leopard) you can still download version 4.3
Please test your clips with foolcat demo version.
It does support some MXF and QT formats including Apple Prores.
Metadatas is not as detailed as with RED files but I will try to keep adding support for other cameras file formats in the future.
infos, question and feedback : REDUSER, connect on social networks or email me